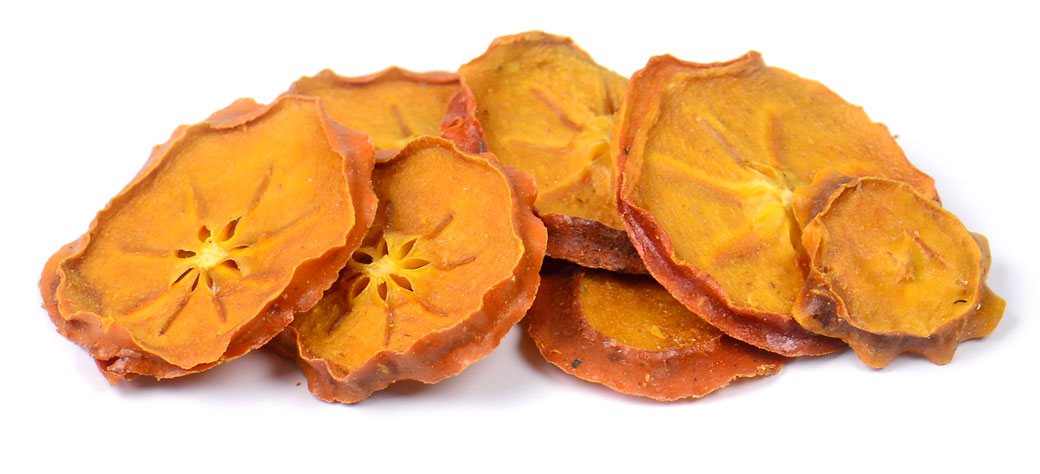 Persimmons – Sliced – ORGANIC
New this year! We're very excited about this new addition to our line of dried fruit. We've sourced these dried persimmons from a small organic family farm in California that grows and processes their own persimmons. While persimmons aren't as well known outside of Asian countries, where they're quite popular, we think they're so good they should become a regular household staple here too!
If you haven't yet had the pleasure of trying dried persimmons you can imagine them as a blend of mango and papaya with a hint of apricot and vanilla. With a fruit-leather type texture, their sweet fruity flavour and bright colour make them both beautiful to look at and a treat to eat. While the sample we received was quickly gobbled up as is, they can also be chopped up and added to your baked goods, granolas or anything you can imagine!
Country of origin: United States
Ingredients: Organic persimmons. May contain milk ingredients, peanuts, tree nuts, sesame seeds, soya, wheat and mustard.
This product is not taxable
Fair Trade
Rancho Vignola is fully committed to fair trade principles in order to support the farmers, growers, and processors we work with.
No Food Waste
Any remaining inventory at the end of our Spring Clearance Sale will be donated to food banks and charitable organizations across Canada.
Shipping Assurance
You'll be contacted before we ship your order! Smaller orders during December and March will receive an email notification once your order is shipped.