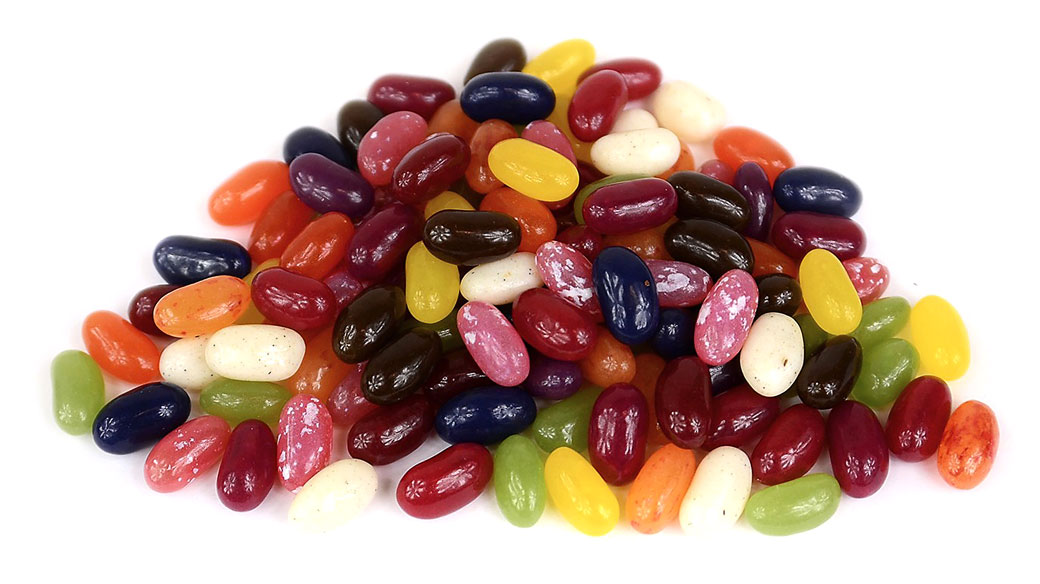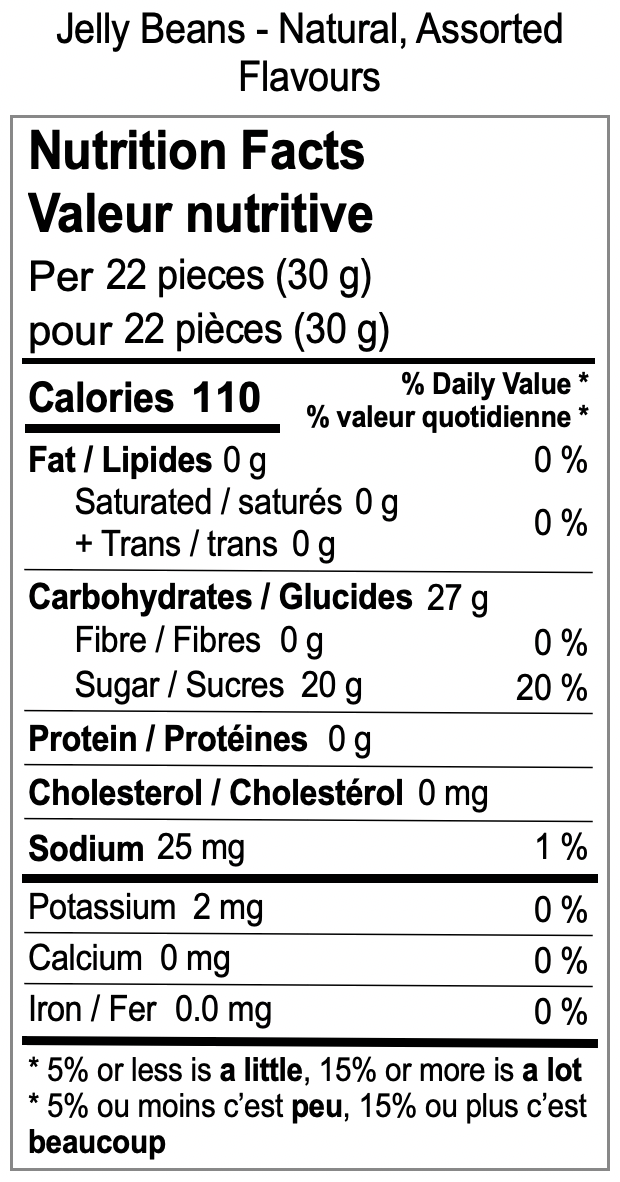 Jelly Beans – Natural, Assorted Flavours
To satisfy your inner child – with all-natural flavours and colours from vegetable and fruit sources, and no gelatin.
▪ Light green – Apple
▪ Orange – Orange Punch
▪ Purple – Grape
▪ Dark red – Black Cherry
▪ Brown – Root Beer
▪ Red – Cranberry
▪ Yellow – Lemon
▪ Yellowish-orange with red speckles – Peach
▪ Pink with white speckles – Strawberry
▪ Red – Pomegranate
▪ Blue – Blueberry
▪ White – Vanilla
Country of origin: United States
Ingredients: Cane sugar, corn syrup, cornstarch, dextrose, fruit juice concentrates (guava, mango, apple, raspberry, pineapple, lemon, tangerine, peach, strawberry, apricot, grape, cherry, pomegranate), citric acid, pectin, sodium citrate, colour added (spirulina, fruit and vegetable extracts, beta carotene, annatto, turmeric, saffron, caramel colour, titanium dioxide, red beet juice, purple carrot juice), watermelon powder, natural flavours, ascorbic acid, beeswax, carnauba wax, vanilla, confectioner's glaze, sea salt. May contain milk ingredients, tree nuts, peanuts, sesame seeds, soya and wheat.
This product is taxable
Fair Trade
Rancho Vignola is fully committed to fair trade principles in order to support the farmers, growers, and processors we work with.
No Food Waste
Any remaining inventory at the end of our Spring Clearance Sale will be donated to food banks and charitable organizations across Canada.
Shipping Assurance
You'll be contacted before we ship your order! Smaller orders during December and March will receive an email notification once your order is shipped.