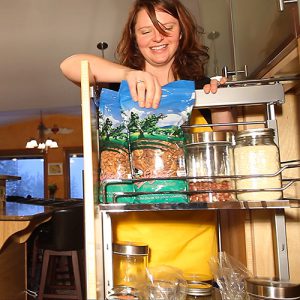 I am always a little jealous of people who have a great pantry. For me, it is such a selling point in a house. No pantry? No way! I have mostly been forced to make do with pantries in the houses I have lived in and have yet to have the  opportunity to design my dream pantry. Most pantries you see on TV (e.g. the Food Network) look like spotless dream havens of food storage, with pretty little jars neatly labelled. My reality is nothing like that! Mine's more like elastic-band-clad plastic bags, mismatched jars with masking tape scribbled on once, then crossed out and scribbled on again, and strange concoctions of dehydrated goodies that only myself, the maker, can identify. That being said, about twice a year, I simply MUST go through my precious pantry and relabel, reuse and revamp every last item in it. This helps to keep my stock fresh and updates that running pantry list in my head so that I'm ready for any culinary adventure I take on.


It all started for me when I moved out of my parents' place. Although I had been into cooking for some time, I was very accustomed to my mom's practice of keeping a well-stocked pantry but had no idea how to start my own! So, I consulted one of my foodie heroes, Mollie Katzen and her book Enchanted Broccoli Forest, to help me find my way.
Mollie is a chef and author who was one of the founding members of the Moosewood Restaurant in Ithaca, NY. This restaurant not only changed the face of vegetarianism but it was, and still is, run by a collective of folks that share the hard work running a restaurant presents.
The first few pages of Mollie's book Enchanted Broccoli Forest is a pantry list! A very distinct, holistic pantry list, and it met my needs perfectly.
My early years of adulthood kept my pantry needs fairly portable, yet I still keep my much bigger pantry stocked. Now with a running grocery list on my iPhone to jog my memory, plus stronger purchasing power, my pantry is fairly well stocked.

Tips for storing nuts, seeds and dried fruit:
1. Keep the bulk of your raw nuts and seeds frozen. Keep a jar in the fridge for handy grab-and-go applications. I like to roast my own nuts and seeds and keep them on hand in small jars in my pantry.
2. Dried fruit can be kept in the freezer for the most part, but pulling apart mango, pineapple, etc. can be difficult straight from the freezer. So I like to keep some in the fridge to make it easier for eating. Figs and dates are great right from the freezer! They thaw quite quickly as well, so if you need to use them quickly, it only takes a few minutes. Keeping figs and dates in the pantry will cause them to sugar faster, but don't be afraid of that white, sugary coating… mmm, so delicious. You can soak the dates and figs to clean off the sugar if you like.
3. Keep your salted and flavoured nuts and seeds in the pantry, preferably in the dark. Freezing salted products causes them to be slightly softer in texture once they are thawed.
Our Spring Clearance Event is less than a month away! Stay tuned…