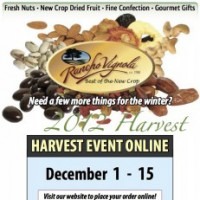 It's December already and that means it's time for Rancho Vignola's final Harvest Event of the season! On now until the 15th of December, don't miss this final opportunity of the year to purchase Rancho Vignola's fresh nuts, new crop dried fruit and fine confection. This annual event has no ordering minimum!
LAST DAY TO ORDER: SATURDAY, DECEMBER 15
We have a great variety of items available, including Rancho's own certified organic mixes and some delicious treats from our hand-made Gourmet Gifts selection. In keeping with the holiday season, we're offering special discounts on Gourmet Gifts as follows: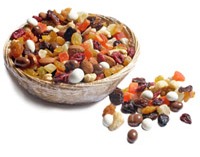 Trail Delight
450g of our deluxe trail mix enhanced with chocolate and yogurt-coated yummies in a wicker "bun" basket.
Reg: $11.95 ~ Special: $8.95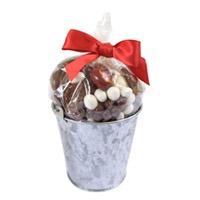 Yummy Bucket
600g of chocolate and yogurt-coated nuts and dried fruit packed into a reusable metal pail.
Reg: $16.95 ~ Special: $13.95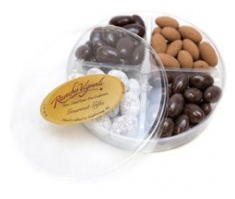 Premium Chocolate Almond Tray
300g of our top-quality chocolate-enrobed almonds arranged in a clear, divided tray.
Reg: $18.95 ~ Special: $15.95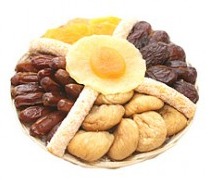 Dried Fruit Tray
750g of luscious dried fruit packed into a flat wicker tray.
Reg: $24.95 ~ Special: $18.95
Please CONTACT US if you have any questions!
– The Team at Rancho Vignola –
Phone: 1.877.639.2767
Fax: 250.546.6653