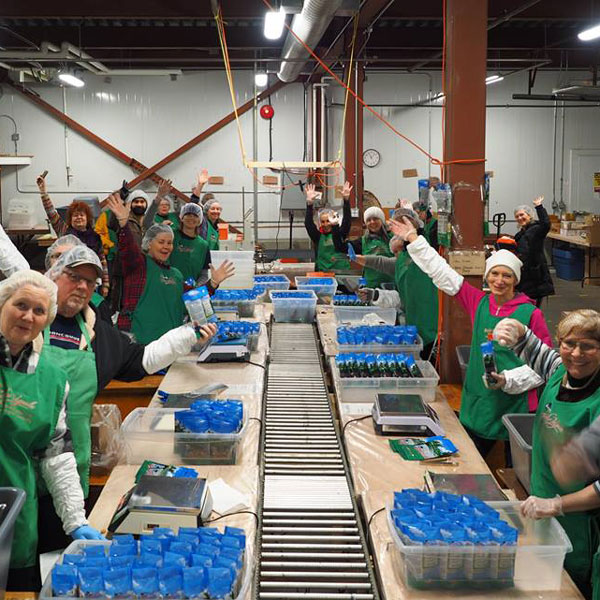 The warehouse is alive with the pitter-patter of work boots, the swoosh of our aprons and hairnets, the hum of the equipment and the chatter of our valued staff.
As we close in on the end of our final Harvest Sale of the year, our staff, friends and families have once again gathered for our annual Donation Day.

On Saturday, December 10 we banded together to package and box several thousand pounds of top-quality Rancho products destined for food banks all over Western Canada, including every city we host a Harvest Sale in!
'Tis the season of giving, and we're giving back to all of the communities that open their doors to us and support us in November.
It is important to serve those in need all year round, but it's so easy to get caught up in the whirlwind of Christmas holidays. We have the ability and opportunity to give back to our community and we are so incredibly proud of the big hearts who volunteer their time every year to help us make Donation Day a success. 10,000 pounds and $125,000 of Rancho nuts, dried fruit and confections are making their way to organizations that make Christmas just a little bit easier for the less fortunate or those struggling at this time of year. We always work towards a common goal at Rancho Vignola, but Donation Day has us work towards a goal that is near and dear to us and it is heart-warming to see the kids come by, don the hairnets and aprons to work with their moms and dads for the day!
Thank you to all of our staff, friends and the dedicated family members that volunteered with us on Saturday to help get these donations packaged up and out the door. We couldn't do it without your generosity and we are so very grateful to each of you. We are all incredibly proud to be part of the Rancho Vignola team!
Happy Holidays from our families to yours!