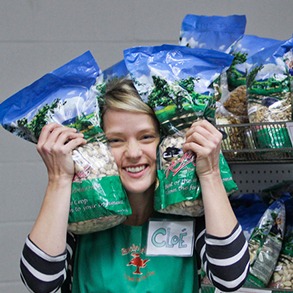 Since the conclusion of the 2015 wholesale ordering in September, we've been busy preparing for our annual Harvest Events.
Our dedicated team have been spending their days receiving and packaging this year's bounty, all in our Armstrong warehouse.
Each fall we bring the freshest and highest-quality products direct to the consumer in various communities in British Columbia and Alberta.
Attend an event in your area and you will find a team of friendly and knowledgeable staff to assist you with your purchases, and you will be able to sample all of the products before you buy ~ taste the freshness!

Unlike the wholesale ordering period, the Harvest Events offer a variety of pack sizes so you can tailor your family's needs. Packs ranging from 1-lb, 2-lb and 5-lb, up to a case, are available to buy. If you're in need of gift-giving ideas that won't break the bank, we carry a great selection of Gourmet Gift Packs in a variety of sizes and combinations. You're bound to find something for everyone on your list!
November is a busy month, and we hope you'll be able to make it out to one of the following Harvest Events to see us! Don't fret if you can't make it, we understand ~ that's why we have an online Harvest Event from December 1 to 15! No order minimum, and similar to wholesale ordering, we'll ship it to you!
The Harvest Event schedule is as follows (or better yet, see our Harvest Events page for detailed information):
November 6 to 7
Vernon, BC: Vernon Recreation Centre, (Fri 9am-7pm/Sat 9am-5pm)
Salmon Arm, BC: SASCU Recreation Centre (Fri 9am-7pm/Sat 9am-5pm)
November 13 to 14
Penticton, BC: Penticton Trade & Convention Centre, (Fri 9am-7pm/Sat 9am-5pm)
Tarrys, BC: Tarrys Hall **NEW LOCATION**, (Fri 10am-7pm/Sat 10am-5pm)
Camrose, AB: Camrose Regional Exhibition (Fri 9am-7pm/Sat 9am-5pm)
November 20 to 21
Abbotsford, BC: Windsor Greenhouses (Fri 9am-7pm/Sat 9am-5pm)
Revelstoke, BC: Revelstoke Community Centre, (Fri 5pm-9pm/Sat 9am-5pm)
Airdrie, AB: Airdrie Town & Country Centre, (Fri 9am-7pm/Sat 9am-5pm)
November 27 to 28
Kelowna, BC: Parkinson Recreation Centre, (Fri 10am-7pm/Sat 10am-5pm)
Sidney, BC: Mary Winspear Centre, (Fri 9am-7pm/Sat 9am-5pm)
Cloverdale, BC: Cloverdale Fairgrounds, (Fri 9am-7pm/Sat 9am-5pm)
We are eager to catch up with returning customers at each of these events and even more excited to be able to add a new location to the mix this year. We pride ourselves on being a unique business, not only in the high-quality products we source, but also in our ability to serve rural communities. The West Kootenays certainly qualifies, and we're thrilled to host our first Kootenay Harvest Event in Tarrys, BC. Nestled between Nelson and Castlegar, it's a great and accessible location for a spread-out cluster of communities. We look forward to seeing you all!
Ever wonder what it takes to put on a Harvest Event? Check out this awesome time-lapse video from our Sidney event last year!
If it is your first time joining us at a Harvest Event and you want to know what you're getting yourself into, we've included a video of the Sidney antics as well!
See here for more information on each of the events and to check out the products in advance.