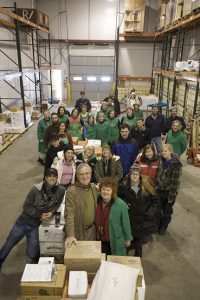 Having just come out of a Spring Clearance Event online that attracted WAY more customers than we anticipated, we are learning a lot about the art of online purchasing. How to appeal to our amazing customers, as well as keep our inventory records up to date and functioning. Business is so unique these days. A business like ours? Completely unique! "Catch up" is a game we often find ourselves playing.
Rancho Vignola operates under a different set of principles than most companies. We pride ourselves on providing quality whole food products to customers in rural regions of Canada and we offer a service that most companies don't. We offer the freshest nuts, dried fruit, seeds and fine confection available and we ship it to you. The catch is, we don't operate year round! We have specific times of year that you can purchase from us and each time it's a bit of a different shopping experience. I'm going to break it down for you:
September: WHOLESALE ORDERING ~ IN A NUTSHELL!
Wholesale ordering is only available in September.
Order minimum is $500.
Products are available in full case and 5 lb quantities.
This is set up as pre-orders. Orders are shipped to customers in November.
November: Ship wholesale orders across Canada

November: Retail Harvest Event online
Visit one of our retail Harvest Events in BC and Alberta.Each autumn we bring a selection of our new crop dried fruit and nuts direct to the consumer through our Harvest Events in various communities in British Columbia and Alberta. At these events, we set up a display of our products so customers are able to see and taste a sample of each product and make their purchases. There is also a great selection of Gourmet Gifts of all descriptions and sizes for tasty Holiday gift-giving ideas. *We select a unique cross-section of our products to bring to these events. In order to receive our full selection of products, it is best to pre-order wholesale in September.
December: Retail Harvest Event online
Order online from us December 1st-15th across Canada with no order minimum!
March: Spring Clearance Event online
Check out our end-of-season deals and order across Canada with no order minimum!
In the summer, we write and design a yearly newsletter that we distribute electronically or by mail to all our customers. Every year we come up with a theme for our publication and we enjoy sharing stories from the season past. Don't forget to catch us at our brightly coloured booth at festivals and events in BC this summer. Find where we will be via Facebook and Twitter.
Most of us at Rancho Vignola are food-a-holics, health foodies on a mission to feed ourselves and our families well. We love to share ideas and recipes and we also love to share great food we have made. Our employees all eat in different ways: vegetarians, vegans, omnivores, celiac sufferers… we are all on our own magical mystery tour of what to eat! One commonality between us all? We eat whole foods in the majority of our diet.
Food is as subjective as music. Everyone has their likes and dislikes. Experimenting with different recipes, ideologies and various intolerances, keeps us creatively engaged in what we do. All of our customers have those sorts of thoughts and ideas as well and having a staff that is constantly striving to be healthier, more productive, and willing to try new things means that we can be that much more supportive to our customers.
Our goal at Rancho Vignola and the goal of this blog is simply to share ideas, experiences, and fun with whomever wishes to follow us. Being a part of a small, successful, family owned and operated business has helped me learn the importance of taking chances, trying things out and figuring out if they work all on my own.
*Cheers* Here's to another project.
Don't forget to check out our Facebook page and follow us on Twitter!