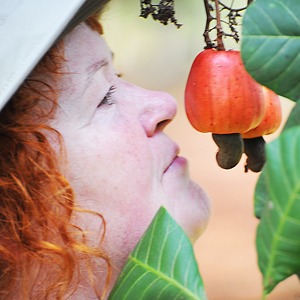 We call them cashews nuts, but they are actually seeds! They are the seed of the cashew fruit, and it's a big deal to make them edible.
Yup, you read that right: cashews are not edible right off the tree. The fruit is, but the "seeds" must be processed first.
You wouldn't die if you ate a cashew straight from the tree ∼ in fact, we have a co-worker who has eaten quite a few like this, but he doesn't recommend it. He suffered from quite the tummy ache for a few WEEKS afterwards.

So while we often weep over the cost of cashews, what we must keep in mind is that each one of those little nuggets has made its way through quite the chain of processes from harvest to table. Cashews have a black resin coating that is both a valuable and versatile raw material, and a caustic, harmful substance. The resin is used in producing brake fluid and paint, among other things. But it can cause a skin reaction, not unlike poison ivy, leaving whomever touches it in a lot of pain.
In 2009, Sue and Richard Vignola visited Vietnam to tour one of the cashew plantations that Rancho Vignola purchases from. Here is an excerpt of their fascinating experience, written by Sue Vignola: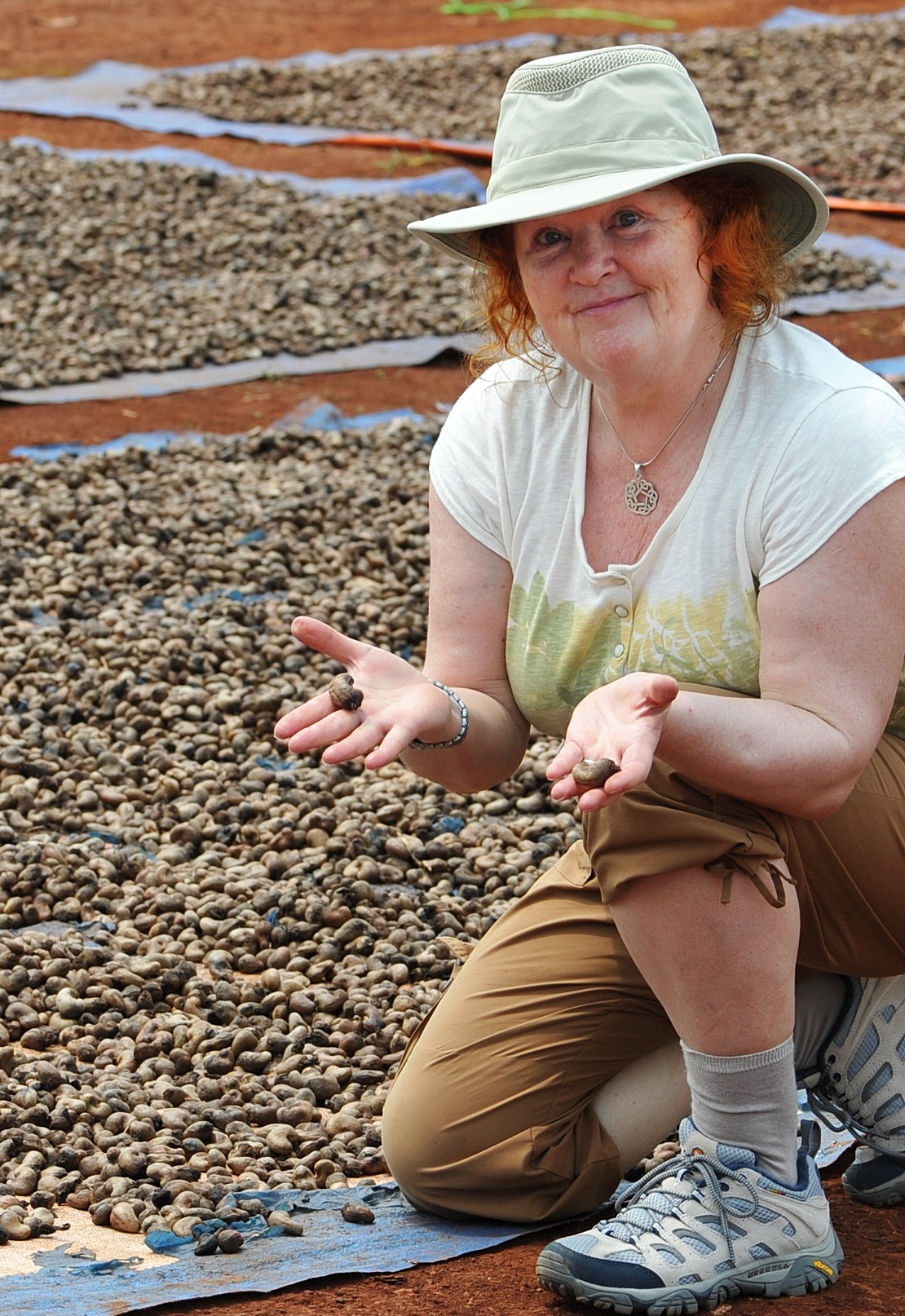 "This trip came about at the urging of our main cashew supplier, Dan On of Dan-D Foods in Richmond, BC. Dan is a Vietnamese-Canadian who emigrated to British Columbia in the early 1980s. He opened the Vietnamese branch of his corporation in 1999 so he could oversee cashew processing there.
"We've timed our visit to coincide with the cashew harvest, and are now en route to a cashew plantation and processing plant in the heart of Binh Duong province. We're accompanied by three of Dan On's staff members and Dan's niece, a young Chinese-Australian woman, all of whom are trying to answer our many questions in a mixture of Vietnamese, Cantonese and English. Heading away from Ho Chi Minh City (formerly Saigon), we pass through quiet countryside, thankfully devoid of the mass of motorized scooters so prevalent in the city. There are about eight million people in Ho Chi Minh City and at least half of them seem to own a scooter or bike!
"On our two-hour journey into the rural areas, we pass by numerous rubber plantations, a major crop export for Vietnam. Reaching our first destination, we are met on the roadside by a weathered farmer who hops onto her scooter and guides us down a dirt road to her small cashew plantation. We step out of the cool vehicle and are embraced by intense heat and brilliant sunshine. Our steps raise clouds of dust from the dry, red earth.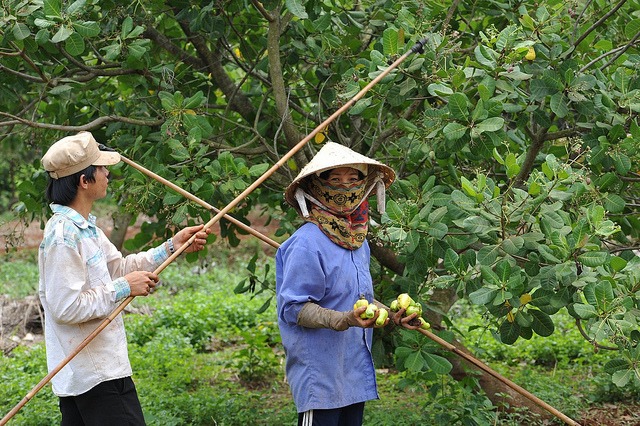 "Spotting what look like bright red and yellow peppers hanging upside down in the trees, we are thrilled to see our very first cashew 'apples.' The picker finds our excitement quite comical as she hands us each a fruit to eat. It tastes sweet, juicy, starchy and astringent at the same time. The fruit is rich in vitamin C and used in food production by some cashew-producing countries for fruit beverages and jams.
"When I enquire about chemical use in conventional cashew cultivation, I'm told that cashews are quite easy to grow and have few predators, so little chemical intervention is required. There is no irrigation used and farmers are dependent on the rain, which is often not sufficient or appears at the wrong time ∼ the usual farmers' lament! This year the rainy season's impact on the cashews has resulted in a lower yield than normal.
"The trees yield their first harvest after six years. The ripe fruit is hand-picked, the 'apple' twisted off and discarded, and the dark brown nut placed in bags. The bags of nuts are then transferred to a local processing plant for the first stage of the intense process that cashews must endure to produce the lovely white nuts we all know and love!
Processing cashews ∼ from black to white!
"Our next stop is a nearby processing plant, where a group of very young giggling children, playing while their parents work, are the first to greet us. The building is a cement structure, open in the front, with alcoves for various stages of the production. The first room is packed with approximately fifty people, mostly women of varying ages. They are seated at individual, foot-pedal operated hulling machines, cracking each shell and removing the cashew. Their hands and arms are covered to protect them from the caustic black resin found inside the hull. The brown skin protects the nut from the resin and is later removed during processing.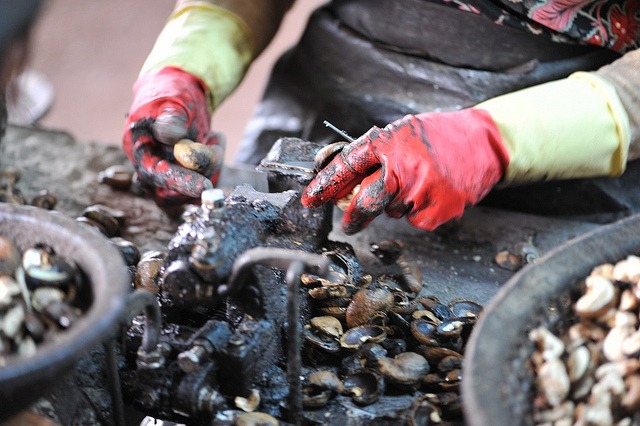 "In the next alcove, the hulled cashews are placed into huge cauldrons for steam processing to remove the toxic resin. The scene is almost mediaeval in setting and the process may be unchanged from a century ago. The cauldrons are sometimes fuelled by cashew hulls, but the plant usually burns cheaper wood since the hulls are more valuable when converted into diesel fuel.
"After steaming, the cashews are laid out in the sun to dry, still in their brown skins. The cashews are spread on tarps and raked over constantly by attendants, who make sure each and every nut is dried thoroughly in the hot sun.  The cashews then go for final processing, where the brown skin is painstakingly removed by hand. We are beginning to understand why cashews are so expensive!"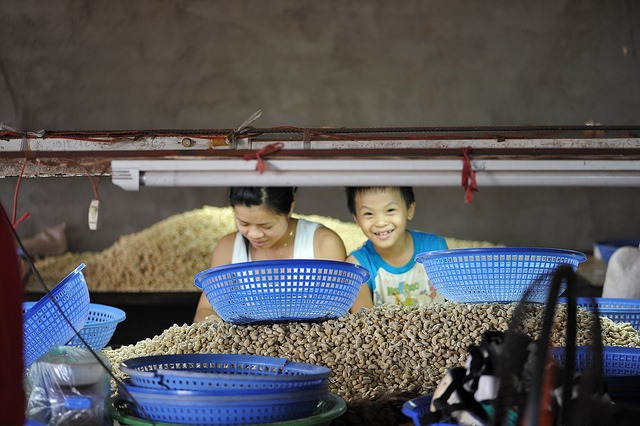 Vietnam is not the only country that exports cashews. India, Nigeria, Côte d'Ivoire (Ivory Coast) and Brazil are all major exporters of these valuable nuts, Brazil being where the cashew tree originates. Like many global commodities, cashews can be a hotbed of controversy. The amount of labour that goes into processing cashews can sometimes lead to forced labour camps and other human rights abuses that we have no wish to support. This is one of the reasons we feel that visiting farms and processing facilities in person, and meeting the people and families involved, is so important. This personal connection is vital to ensuring quality, care and sustainability of the food we enjoy and share with you.