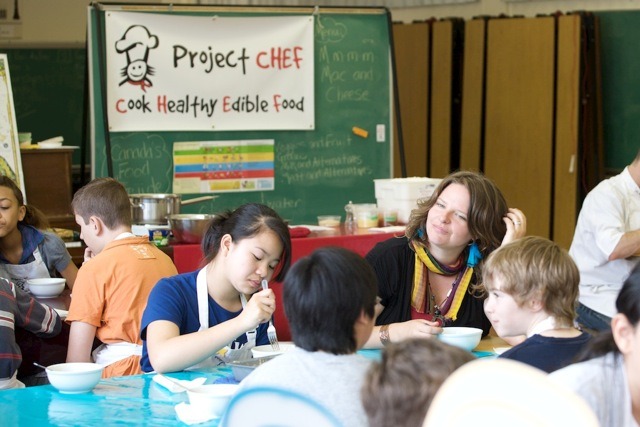 One of my long-term goals in life has always been to be part of an educational program that helps people learn about the importance of eating a whole foods diet. I figured that that meant I needed to work with adults who had not learned to cook very well. Boy, was I wrong on that fact! Kids are far more interested and curious about learning to cook and eat. Especially when you make it fun! That's why I was so proud to see Rancho Vignola sponsor a program like Project CHEF.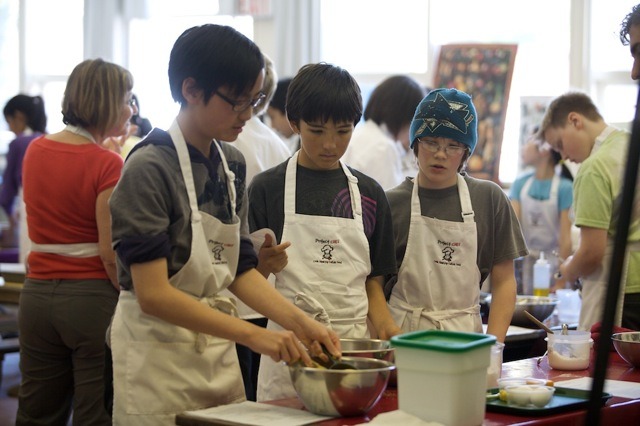 Project CHEF is a non-profit program that partners with the Vancouver School Board to teach children about wholesome food. The Project CHEF program began implementation in the winter of 2008. At the conclusion of the 2009-2010 school year the program had reached approximately 2,800 children from Vancouver elementary schools. This year, with 23 weeks of instruction and 54 classes, from kindergarten to grade 7, Project CHEF has found its stride. Rancho Vignola started sponsoring Project CHEF in 2010. A good friend of ours, David, was involved, and he thought we would love Barb Findlay who runs the program. So Natalia and I packed our bags and headed to Vancouver to see what this was all about.
Well, we did love it and we LOVED Barb! She is such a wonderful advocate for children eating well and learning the very necessary skills needed to feed themselves. Our own Canadian version of Jamie Oliver… without the cute lisp… but with as much or more passion! When Rancho Vignola first got involved with Project CHEF, the whole "nuts in schools" thing was a concern of ours. Of course, it has always been something we remain cautious around. In this day and age, there is just no denying that kids deal with food aversions and severe allergies, but our friend David also suffers from a severe nut allergy and with him working with Project CHEF we were able to navigate the situation.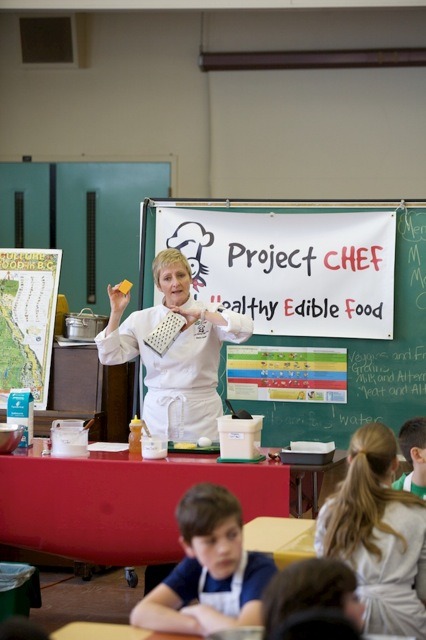 What we did was provide Project CHEF with dried fruit and seeds that had not come in contact with anything else in our warehouse,meaning they were still in their original cases. In general, when people come to us with concerns about allergies, this is our recommendation. Purchase cases of dried fruit and seeds during the wholesale ordering season.
This way, nothing comes in contact with nuts! Not even in the air. You see, at Rancho we do most things by hand in our warehouse. We do, of course, clean our bins very thoroughly between products, but we just can't guarantee that there won't be cross contamination. We have to give out that generic statement. "Packaged in a facility that may contain…" when the question arises. Hey, not everyone can love nuts like we do! We certainly want to be as accessible to as may folks as we can.
Back to Project CHEF though… what an incredible feeling it is see kids enjoying foods they may never have tried if it wasn't for the program. Or how about watching them read labels on packaged food and KNOW what some of those crazy ingredients really are! I learned a thing or two from those young'uns. For more information on this incredible program and to find out ways that you can help bring Project CHEF to your communities, visit www.projectchef.ca. Follow them on twitter @ProjectChef and give the Facebook page a "like," would yah?