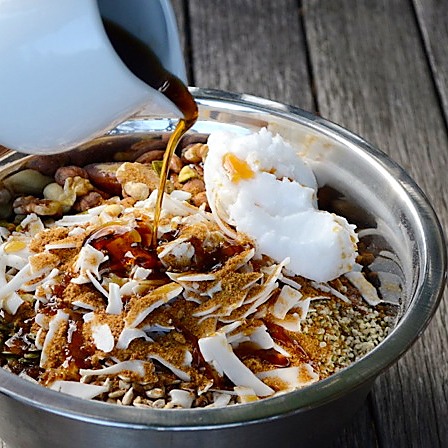 This recipe for Rancho's Coco Maple Granola is totally flexible. Feel free to play around with your own combinations of dried fruit, nuts and seeds.
Besides breakfast and/or snacks, take this granola hiking, camping or backpacking. It's lightweight, high in calories and easy to store, similar to trail mix and muesli.
Try it in combination with yogurt, honey, strawberries, bananas, dairy milk, almond or soya milk, blueberries and/or other forms of cereal. It can also serve as a topping for various types of pastries and/or desserts. Granola is great for improving digestion!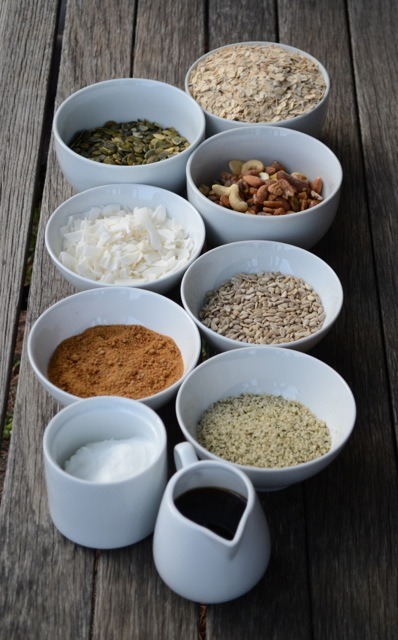 Rancho's Coco Maple Granola
3 cups old-fashioned rolled oats
1 cup raw pumpkin seeds, hulled
½ cup raw sunflower seeds, hulled
½ cup raw hemp hearts
1 cup unsweetened coconut chips
1¼ cup Rancho raw nut mix
¾ cup pure maple syrup
½ cup coconut oil
½ cup packed palm sugar
coarse salt
Heat oven to 300 degrees.
Place oats, pumpkin seeds, sunflower seeds, hemp hearts, coconut, nut mix, syrup, olive oil, sugar and one teaspoon of salt in a large bowl, and mix until well combined. Spread granola mixture in an even layer on a rimmed baking sheet. Transfer to oven and bake, stirring every 10-15 minutes until granola is toasted, about 45 minutes.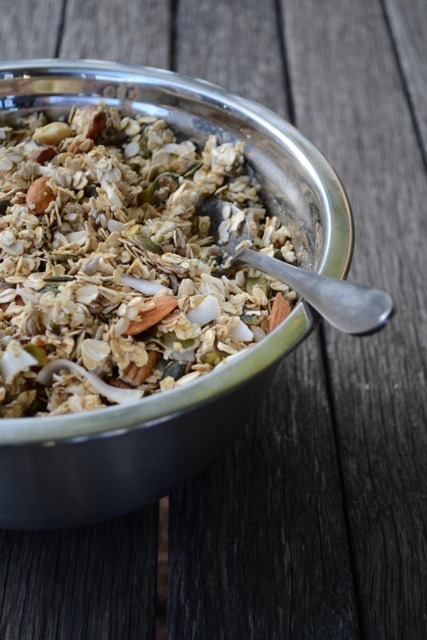 Remove granola from oven and season with more salt to taste. Let cool completely before serving or storing in an airtight container for up to one month.
~Enjoy~