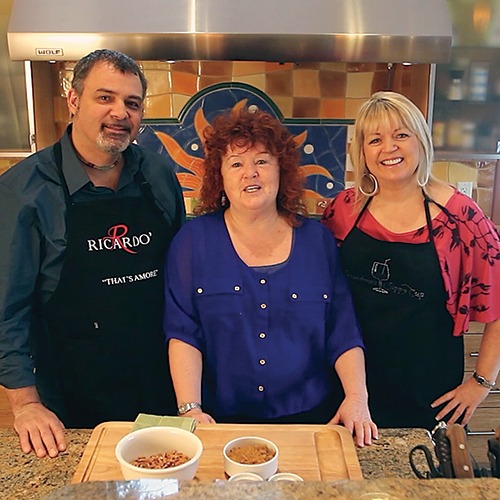 VIN-YO-LA is not only the surname of Richard and Sue Vignola, it is also a city in the province of Modena, Italy. So inviting an Italian chef up to La Cucina Rancho (the Rancho Kitchen) seemed like a great way to celebrate some Italian heritage. We invited Ricardo and Sue of Ricardo's Mediterranean Kitchen to spend the afternoon enjoying the finer things in life: food and wine!
In 2001, Ricardo and Sue opened Ricardo's Mediterranean Kitchen in beautiful Lake Country, BC. Building on Ricardo's Italian heritage, many of the dishes are inspired by Ricardo's own mother's recipes. In 2006, Ricardo's parents Giuseppe and Concetta moved to the Okanagan and have been involved with the restaurant's daily operations ever since. Ricardo's father grows much of the fresh produce and his mother helps perfect the traditional Italian flavours for many of the dishes. With Sue as the talented and enthusiastic "hostess with the mostess," and three of their children also working in the restaurant, Ricardo's is a true family establishment. Always a Rancho favourite for some real food and a good time!

Ricardo has also just put out a cookbook to celebrate his Italian heritage. Get a copy of That's Amore today!
Ricardo's Candied Pecans
2 cups pecans
1 cup brown sugar
3 tbsp extra virgin olive oil
3 tbsp balsamic vinegar
Combine the olive oil, balsamic vinegar and brown sugar in an oven-safe pan on high heat. Keep stirring until the first three ingredients are completely mixed together and the sugar is melted. Turn the heat down to medium, add the pecans and stir until they're completely coated in the sugar mixture. Transfer the pan into the oven, preheated at 425ºF. After about ten minutes, give the pecans a stir, then let bake for another five minutes, watching closely for the magic moment when the pecans get a nice candy glaze. They can burn quickly, so pay attention!
Transfer pecans to a greased sheet of foil, use a fork to separate and flatten them out, then let cool for at least ten minutes. When cool, break apart and enjoy!