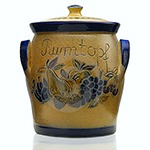 Without fail, every year I find little bits of this and that left over from last year's Rancho order that need using up. I'm sure some folks can relate. And every year, I am looking for ways to clean up and clean out my small chest freezer to make room for all the summer fruit I froze and all my Rancho goodies coming in November. This year a friend mentioned making rumtopf out of her seasonal summer fruit and I was struck by inspiration!

What is rumtopf? AKA rum pot! Basically you cover fresh or dried fruit in rum, sherry and brown sugar water, and place it in a dark corner of your kitchen until Christmas. At Christmas or New Year's, you have rumtopf over a dense cake or ice cream for a delicious fermented dessert. Now rumtopf needs at least a month to sit to truly be the decadent, delicious treat that it can be… so get on it quick!
Most dried fruit is fine in this recipe, except apples! They will get a funny texture. I used:
Dried pineapple (unsulphured and cut in quarters)
Goji berries
Incan berries
Raisins
Currants
Organic dried apricots
Deglet dates
Calimyrna figs (quartered)
Unsulphured ginger
Unsulphured cherries
All of this equalled about eight cups of dried fruit. I then put all those ingredients into a big heavy pot, poured 750 ml of sherry in, 1/4-cup of Rancho's organic whole brown sugar, 200 ml of dark rum and just enough water to cover the whole mixture. I let it reach a rolling boil, then removed it from the heat and let it cool. I got a few clean jars (this batch will make about three litres or so), filled them to within an inch or so of the rim, packed the fruit down a bit, then topped with just a bit of the liquid. I stretched a bit of plastic wrap over the top so that no air would escape, then screwed the lids on very tightly.
Technically, you can eat this after a month. But you can let it sit, in a dark cupboard, for up to three months! A perfect thing to make ahead of time for the holidays!
~ ENJOY ~