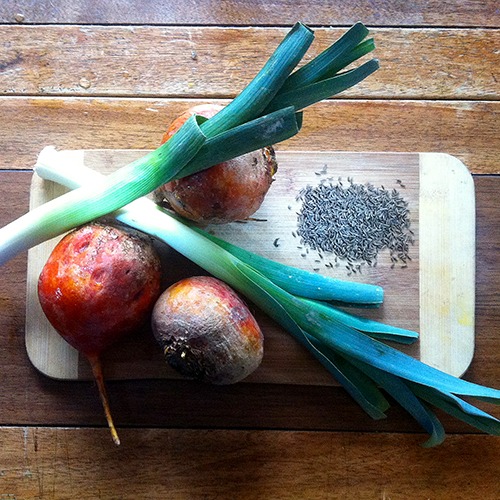 The snow is deep outside and my passion for cooking is totally inspired. My trip to the Winter Market in Vernon yesterday lit up my imagination for rich, thick root vegetables, stewed, roasted, simmered and warming to my winter mind. Last night I made what I call a "quick borscht" with sweet, golden beets and toasted caraway seeds. I call this quick borscht only because I grate the raw root veggies to speed up cooking time. Take your favourite borscht recipe and try grating the potatoes and beets. Of course the longer you simmer your flavours, the better the end product, but if you are in a hurry for a nutritious meal, use a good broth and grate your veggies. You will have just enough time for it to simmer as you assemble and bake some molasses cornbread with toasted walnuts to accompany it.

The molasses cornbread with toasted walnuts was the true star of this meal. So I thought I would share my adaptation of the plain corn bread recipe from the Rebar: Modern Food Cookbook by Audrey Alsterberg and Wanda Urbanowicz.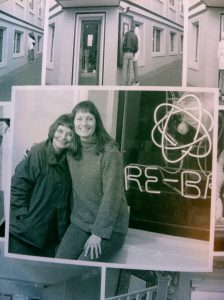 Audrey is owner of the Rebar Modern Food Restaurant in Victoria, BC. If you haven't heard of it, you should make it a destination on your next trip to Vancouver Island. Rebar is an experience! A classy vegetarian restaurant in the heart of the "city." I call Victoria a city with hesitation only because, to me, it has always felt more like a town. The downtown core, with its little shops and cozy eateries, is very inviting to anyone on the prowl for something unique. The Rebar tops that list of delicious foodie finds in my opinion. Along with the restaurant came the cookbook, which has been a "go-to-grab" of mine for years! I highly recommend folks pick up a copy for a themselves or a friend. The colourful, rich recipes that make up this book invoke true foodie fiestas in my mind on any cold, drab January day.
Molasses Cornbread with Toasted Walnuts
(as adapted from the Rebar cookbook)
1 cup of cornmeal
½ cup whole wheat flour
½ cup of corn flour
2 tbsp of palm sugar
2 tsp of baking powder
1 tsp of baking soda
1.2 tsp sea salt
1 cup of almond milk
2 tbsp of malt vinegar
2 tbsp of blackstrap molasses
2 eggs, lightly beaten
5 tbsp of melted coconut oil
Handful of "rough chopped" walnuts, lightly toasted
Pre-heat the oven to 400°F. Combine all the dry ingredients (except the walnuts!) in a medium sized bowl. In a smaller bowl, whisk the remaining ingredients (except the walnuts!). Add the wet mix to the dry mix and fold them together (including the walnuts!). Don't over-mix! Pour the batter into a greased baking pan (9×9-inch square pan) and bake for 25 minutes, or until the top is spongy, not soft. Insert a knife into the middle; if it comes out clean, serve nice and hot with butter or coconut oil.
~ Enjoy ~