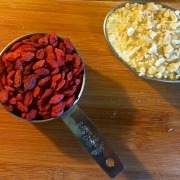 I have so many tomatoes in my garden this year. I have dehydrated, canned, frozen, made sauce, made more sauce and eaten so many! I wanted to do something different with a few pounds of them before I just started giving them all away! Something that I had never made, but that I thought would really enhance my winter collection of canned goods. I settled on making a chutney! My love of hot curries, stinky cheese and roasted veggies make having chutney around in the winter a real treat. So I searched for the right recipe online. Here in the Okanagan, apples in September are NOT hard to find. In fact, there are so many types of apples that the hard part is figuring out which ones will taste right with which recipe. I found a recipe at AllRecipes.ca that I thought would be perfect for my existing ingredients, though I am physically unable to leave a recipe alone. I just had to change it a teeny bit.

Here is the original ingredient list with my changes in brackets:
Ingredients
8 to 10 medium apples, peeled, cored and sliced (I used early McIntosh apples)
2 cups water
1 tablespoon mustard seed
8 large or 12 small tomatoes, sliced (I didn't peel my tomatoes, but some people may want to)
2 large onions, chopped
1 clove garlic, chopped (I used two cloves ~ mmmmmmmm, garlic)
½ cup sultana raisins (I used a half-cup of organic goji berries & another half-cup of crystallized diced unsulphured ginger)
¾ cup white sugar (I used only a quarter-cup of  Rancho's organic palm sugar instead of white sugar because the ginger has sugar on it and I didn't feel I would need that much)
5 teaspoons curry powder
1 teaspoon cayenne pepper
4 teaspoons salt
2½ cups malt vinegar (I only used two cups)
Directions
Place apples and water in a large saucepan. Bring to a boil, reduce heat, and cook 25 minutes or until apples are tender, stirring occasionally. Add more water as necessary to keep the apples simmering.
Wrap mustard seed in cheesecloth and place with apples. Mix tomatoes, onions, garlic, goji berries, ginger, sugar, curry powder, cayenne pepper, salt and vinegar into the saucepan with the apples. Stir until sugar has dissolved.
Bring the mixture to a boil. Reduce heat and simmer three hours, stirring occasionally, until a thick chutney remains. Remove and discard wrapped mustard seed. (I used an immersion wand to blend my big chunks smoother. (You could chop everything finer if you like; then you wouldn't need to use this. However, I am lazy and own this great tool I adoringly call "the buzz-buzz" which works great for this application.)
Can in 250-ml jars, boiling them in the water bath for 20 minutes. (Out of this recipe I got 8 x 250-ml jars.)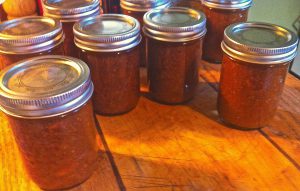 This recipe is a special treat to serve with rich curries, cheese and nice bread.
~ Enjoy ~